Concert Detail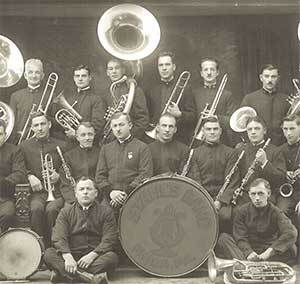 Time and the Winds
Date and Time
Sunday, November 15, 2015 at 3:00 pm
Location
Renton IKEA Performing Arts Center
400 S Second Street
Renton , WA 98057
Program
Shortcut Home
Dana Wilson
Overtire for Band
Felix Mendelssohn
If Thou Be Near
Johann Sebastian Bach
Transcribed by R. L. Moehlmann
Suite Number 1 in Eb For Military Band
Gustav Holst
Edited by Colin Mathews
Variants on a Mediaeval Tune
Norman Dello Joio
Ye Banks and Braes o' Bonnie Doon
Percy Aldridge Grainger
His Honor
Henry Filmore
Edited by Frederick Fennell
Moon By Night
Jonathan Newman
Tidal Forces
Michael Markowski
You can view a print program online at SeattleWindSymphony.org.
Description
The Seattle Wind Symphony presents Time and the Winds, a musical journey through the history of wind band music featuring works by Mendelssohn, Holst, Grainger, Fillmore, Dello Joio and more. Guest Conductor Wayne Bailey leads the ensemble in works from the 1700's to the present, illustrating how wind band music has changed and evolved over the past three hundred years.
Featuring
Dr. Wayne Bailey, guest conductor
Wayne Bailey is Professor of Music in the Herberger College School of Music at Arizona State University where he conducts the university Wind Ensemble and teaches graduate and undergraduate courses in conducting. Dr. Bailey also served as the Director of the School of Music at ASU and previously held similar positions at the University of Tennessee in Knoxville, Texas Tech University, and East Tennessee State University. A trumpeter and band director he has also served on the faculty at the University of Colorado, where he was also Assistant Dean; Hastings College; Alabama State University; and the Howell, Michigan Public Schools.
Dr. Bailey holds a Bachelor of Music Education degree from Iowa State University, a Master of Music in trumpet performance from the University of Michigan, and a Doctorate of Musical Arts in instrumental conducting from the University of Colorado.
Dr. Bailey is the author of four widely used music education and conducting textbooks, including Aural Skills for Conductors, Teaching Brass; a Resource Manual the Complete Marching Band Resource Manual, and Conducting; the Art of Communication. He has published articles in The Instrumentalist, BD Guide, BandWorld Today's Music Educator, The Canadian Band Journal as well as a number of band and brass arrangements.
Ensembles under his direction have performed at the College Band Directors National Association conference, the International Community Band festival in Switzerland, the All-Japan Band Directors Clinic, at nationally televised bowl games, and throughout the nation. He has conducted recordings of ensembles in the U.S. and throughout Europe. Former students hold numerous conducting and administrative positions at colleges and universities throughout the United States.
A well-respected music administrator, Dr. Bailey has served as Chairman of the Committee on Ethics, member of the national Commission on Accreditation and serves as an external evaluator of music programs for the National Association of Schools of Music (NASM). Bailey is an expert on curricular structure and innovation for music schools and has served as a consultant to universities across the nation.