Concert Detail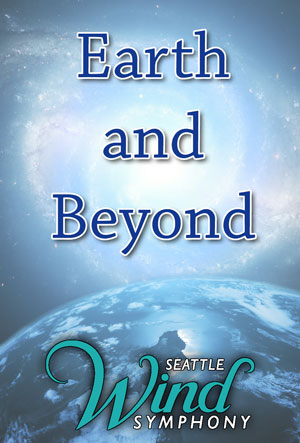 Earth and Beyond
Date and Time
Saturday, February 27, 2016 at 7:30 pm
Location
Shorewood Performing Arts Center
Shorewood High School
17300 Fremont Avenue N.
Shoreline, WA 98113
Program
Aegean Festival Overture
Andreas Makris
We Seven
Derek M. Jenkins
Paris Sketches
Martin Ellerby
After a Gentle Rain
Anthony Iannacone
O Magnum Mysterium
Morten Lauridsen
Transcribed by H. Robert Reynolds
Machu Picchu
Satoshi Yagisawa
You can view a print program online at SeattleWindSymphony.org.
Description
A program of music inspired by nature, exotic locations, and other worlds.
Featuring
Dr. John Falskow, guest conductor
John Falskow is Program Chair of Humanities at Tacoma Community College where he serves as Chair of the Music Department, conducts the TCC Chamber Orchestra, Symphonic Band and teaches a variety of classes in the music curriculum.
Prior to these appointments, Dr. Falskow served as an Assistant Professor of Music at Lander University in Greenwood, South Carolina where he conducted the Wind Ensemble, taught applied trumpet, conducting, orchestration, coached chamber music, coordinated brass and percussion studies, and founded the Lander University String Orchestra. Active as a guest conductor, he has made numerous appearances including: the Tallahassee Youth Symphony, the Big Bend Community Orchestra, the Evergreen Music Festival, Brass Unlimited, and the Florida State University Summer Band Camps. He has also worked with countless school bands and public school musicians in the South and the Pacific Northwest. Dr. Falskow was recently the conductor of the Bremerton Symphony Youth Orchestra and an assistant conductor of the Bremerton Symphony (2005-2008).
Dr. Falskow' s formal education includes undergraduate studies at Washington State University and University of the Puget Sound. He completed a Ph.D. in Music Education at Florida State University, where he conducted many of the university's ensembles: including the Wind Orchestra, University Orchestra, Concert Band, Symphonic Band, FS Winds, and the Harmonie ensemble. He also coached chamber ensembles and taught applied trumpet lessons. Dr. Falskow was a graduate assistant to FSU professors James Croft, Clifford Madsen, Patrick Dunnigan, and Bryan Goff.
Raised in the Tacoma, he was a music educator in the Tacoma School District and serves as a substitute conductor for the Tacoma Youth Symphony Association and trumpet sectional coach.